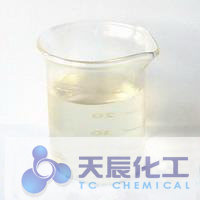 Technical Index:
Appearance: limpidity liquid
DensityD20: 0.96-1.00 g/cm3
Ti Contents: 16.62-16.80%
Refractive IndexD20: 1.465
PH value: About 6
Freezing point: >13
Boiling point: 156/100mmHg
CAS:546-68-9

Structure:

Chemical Name:
Tetra-isopropoxytitanium
Alias:
Intermediate
Chemical Formula:
Ti(i-C3H7O)4
Application:
1. TIPT can be used directly or in directly as a catalyst or catlyst additive,as a coating primer or added to formulation as a adhesion promoter and as the base material in the formation fo sol-get systems or nanoparticle systems or products.

2. TIPT can be used as sharpless oxidation catalyst.

3. Synthesize all kinds of titanate coupling agent, cross-linking agent and dispersant.

TIPT TDS Download:
TDS of TIPT(Tetra-isopropyl Titanate CAS:546-68-9)